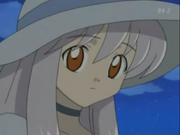 Aries is a Mysterious girl that appears on Episode 11.
She appears at certain points where Yucie can only see her, and disappears afterwards. She is looking for the mysterious light in the sea.
Appearance
Edit
She is a girl with silver hair, wears a white summer, has a grayish summer dress, wears yellow sandals, has hazel brown eyes, often calm, when in her mermaid form, she has white shells and blue tail.
Aries appeared when Yucie spotted her on the rocks for one moment, and then disappeared when Yucie looked at the same area again, She then appeared again on the sunset for Yucie to see her again, but disappeared again afterwards, she appeared on Yucie's flashbacks as well, When Yucie was awake on the beach at night, she appeared again next to her began asking her about Yucie's relation to Arc, and she replies if the person you love doesn't love you, don't stop loving, and that it doesn't matter if Arc was kidding or not when he kissed her. Yucie and Aries then asked for Cube's help into going into the ocean depths to help her find something she's looking for, upon when Aries and Yucie dove into the ocean, a spare mermaid outfit was lying on the ground that was meant for Aries, only signifying that Aries herself is an actual mermaid.
Aries and Yucie search in the area full of undersea life looking for the Light of the Mermaid when they spot two lights coming from the seafloor, turns out they were Balizan's searchlight eyes that signaling for help to whoever could rescue him, Aries and Yucie then help get Balizan out of the ocean floor back to the beach, with Cube, Gaga and Chau helping him.
After Yucie realized about from her troubles, a light shined from the ocean depths the real mermaid's light, which everyone looked at it, when Yucie talked to Aries, she disappeared mysteriously, she was seen again in the water's surface before diving in her mermaid form as she vanished in the light below, never to be seen again.
Although she's never named during the episode, the credit roll has her named Aries.